When a small room can be a headache, a larger room can also cause problems when you don't know how to design it properly. It has its challenge, especially if you have fewer stuff and accessories. If you are obsessed with a bigger room, but you want to keep it tidy and clean, the following guidelines are for you.
Try To Make Boundaries with Oversized Rug
When we talk about large space, we might love the open concept. However, often the larger space or open concept is lack separation. If you want to make a distinctive room look, creating separation is important. You can create an area rug that is combined with furniture. For example in the living room, place a rug under the furniture to distinguish its function from another area.
When it comes to a small room, you will tend to focus on one conversation area. But in a larger room, you will need more than that. You need to be creative by utilizing the size and shape of the furniture. For example, you can create zones such as conversation zone, media zone, writing desk, and so on.
Try to Go Bold with Your Design
While the small area feels overwhelmed with the decor, the large area can handle over-the-top design. Make a cohesive design with the right combination. Don't just play safe with beige and white colors. Add some pops of color to certain areas to create a focal point.
Get The Right Lighting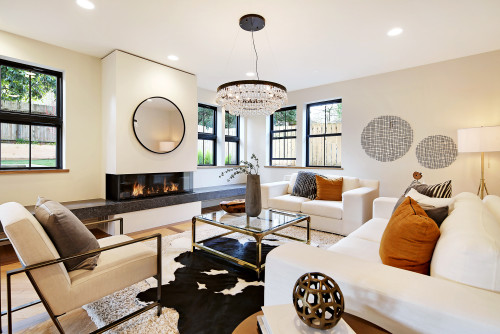 Photo by Seattle Staged to Sell and Design LLC – Browse living room photos
Lighting can be troublesome when you have a large room. Sometimes the light cannot reach certain corners of the wall making the cave effect. Unless you want to focus on certain objects, avoid using can downlights. Opt for a bigger solution like a chandelier or other LED types of lights that can reach the whole room. Pendant lights or gallery lighting also work well if you know how to set it right.
Anchor the Room
If you put too many small pieces, a large room can look so cluttered without a couple of anchoring pieces. You can use certain furniture such as a large coffee table, sofa, sectional, or piano to help you anchor the room for small pieces.
Scale Matters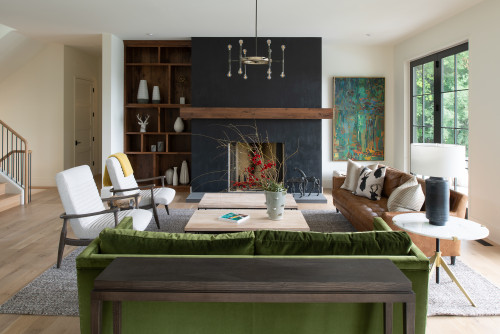 Photo by LORI HANDBERG / Studio M Interiors, Plymouth, MN. – Discover living room design inspiration
If you have a large room with a tall ceiling, then scale matters. Opt for taller furniture to create balance. If all of your furniture is short, you will see an imbalanced look with the ceiling being too tall. Consider taller bookcases, taller sofas, and backs on the chair as well as taller accessories.
Create Multiple Sitting Areas
Creating multiple sitting areas is the easiest way when it comes to decorating a larger room. Some vintage style suits this. You can create two or more separate sitting areas complete with coffee tables, chairs, and couches. Of course, don't forget the rugs. To make it work out, try to use a cohesive color scheme and complementing design elements.
Go Long
Another trick to designing a large space is by going long. Playing proportion is the best way to help you fill up your space. You can use a long console with its extended couch.