Working from home is the new trend. It offers flexibility for many people in many things from time and place. However, not all homeowners have a big room for an office. Some owners should spend their entire day in a tiny cubical, small room which can be quite boring.
In this case, many homeowners have to be creative in converting a small space, let's say it is a spare bedroom, former closet, or window nook, into something dedicated to working. With those things in mind, you can turn a little hard work into something beautiful and cozy, especially for your office. Here are some features to be available to turn your dream office into reality.
Floating Desk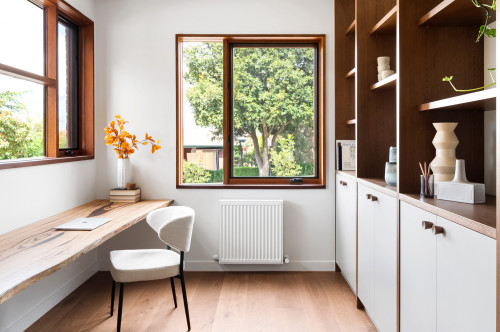 Photo by Inbetween Architecture – Search home office pictures
When it comes to working from home, there are many upsides. But one obvious thing is to separate job and personal life. This will help you focus more on the work at the starting day, as well as allow you to stay away at the end. Many homeowners rant about how difficult they separate work and personal life. It is simply because they don't provide space for each activity.
However, when it comes to a room with fewer squares, the only thing you can do is maximize the space. Make it the priority. For instance, you can wall-mounted anything to get more space. Opt for a wall-mounted desk or lighting which is super helpful compared to a traditional desk.
Make sure the overall look is clean and fuss-free. It will help you clean from distraction and certainly look aesthetic and sleek.
Another strong point you must remember is the height of the floating surface. Consider your preference and your comfort.
The benefit of using floating furniture besides its sleek appearance is that it is easier to clean. However, you must remember there is still a downside. Floating furniture is difficult to move when you are planning to remodel your room, so consider it before planning. Plus, a floating desk is typically smaller which is mostly great for laptops or compact tasks.
Great Artwork
Research shows that engaging with cultural activities such as viewing artwork correlates with better health. Besides, it brings more satisfaction with life as well as lower anxiety and depression. Therefore, don't hesitate to fill your homes with art pieces as they bring a deep connection, especially when it comes to the home office.
In reality, work can be so stressful and anxious that you need something to pause and engage with to bring a little joy.
Of course, nature does better when it comes to this. However, if your room is far from this area, placing artwork is a good alternative.
Wall-Mounted Lighting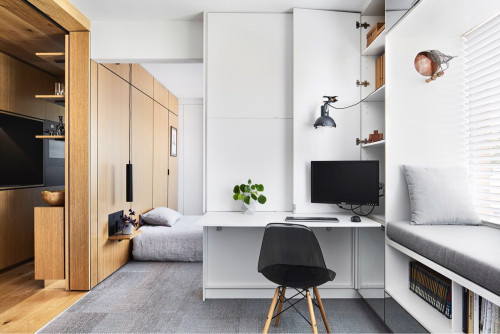 Photo by Lee Cabinets – Look for home office pictures
Good interiors always have great lighting. It is always about combining lighting in the right place. When you are limited on space, opting for wall-mounted lighting is helpful. For instance, you can use the wall sconces to add some visual adornment. Another option to try is the stylish clip-on to give you the same look. Besides, make sure the position is correct. Make sure it is positioned at eye level or 51/2 to 6 feet.